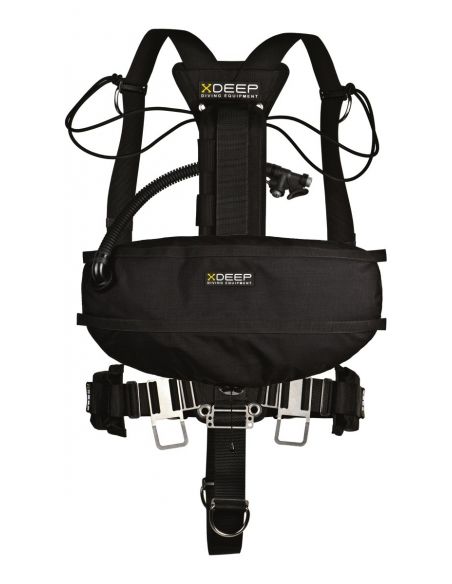 Side Mount revolution has begun!

While designing Stealth 2.0 set, we analysed the side mount harnesses available on the market, taking into account their good and bad points. However, Stealth 2.0 is not a copy of one of them but a totally new, revolutionary structure which works well in both Yucatan caves and European cold waters. 

The stealth 2.0 Side Mount System comprises of several elements, the configuration of which can be adjusted exactly to your needs. 

We are certain that no other side mount system is such versatile as the Stealth 2.0.

Harness with modular weight system

In side the mount configuration, the correct distribution of weight required due to dry suit and thick undergarment is a serious challenge. 

The unique Stealth 2.0 weight system solves the problem completely: you can even take 16kg of weight and distribute it in such a way so as to reach the ideal trim.

Have a closer look at the Stealth 2.0 harness
Test yourself the excellence of Stealth 2.0 weight system
In order to show you how well-designed and universal Stealth 2.0 weight system is, we developed a special configuration tool which makes it possible for you to check various options of weight pockets and their configuration. 
Enter, test various combinations and choose the one that suits you best. 
Click here to start Stealth 2.0 Configurator
Double-shell buoyancy compensator of revolutionary design

Double-shell structure of the BC with outer shell made of Cordura 1100 dTEX provides the highest level of safety for wreck diving. 

The Stealth 2.0 BC has a unique multi-chamber design to fit the body tightly, regardless of how full it is. Its anatomical shape makes it extremely comfortable.

See all the advantages of Stealth 2.0 BC

Design based on years of experience in the side mount

Where else do they know more about side mount diving than in Mexico? The side mount Stealth 2.0 system was designed together with Patrick Widmann of the Mexican PROTEC ADVANCED TRAINING FACILITY. 

Patrick is an IANTD Instructor Trainer and for many years he has been providing training on side mount full cave level and conducting exploration of Sac Actun and Dos Ojos systems.
"In Stock"
This means that the item is in stock and ready for despatch. We do make the odd mistake but 98% of items that say in stock, are actually in stock. If you are ordering a quantity of any item, you are welcome to email or phone to check the quantity available.
"Delivered in 10 Days"
This means that the item is in stock in our remote warehouse and will usually be delivered to you in 10 working days .
"Despatch 6-10 Days"
You are able to buy/order the item but just to advise you that the item is not currently in our warehouse and therefore not available for immediate despatch but is on order or en route to us and we hope to despatch within 6-10 Days. If you want to know more details just e-mail or phone us.
"Sold Out"
This may mean the item is no longer available or possibly out of stock for some time. If you want to know more details just e-mail or phone us.